Posted by Mike Cynar
Views

32830
John 15:2 Explained – Does God Cut Off Branches With No Fruit?
Note: At the 2:25 mark of the above video I intended to say 'We do not believe in Losing salvation"
Many Christians read John 15:2 and ask us 'does this apply to us and does God cut off branches and throw them away if we don't produce fruit'?
In John 15:2 we read:
He CUTS OFF every branch IN ME that bears no fruit, while every branch that does bear fruit he prunes
So there's a problem here. This verse in John 15:2 identified this person as every branch 'IN ME'. So, does this mean that the Christian (who is IN CHRIST) is now being cut off and is going to hell?
Side Note: Some translations say 'take away'.
The majority of us do NOT believe in losing salvation, including most bible commentators and translators. So, they try and explain this verse away by twisting it to have a different meaning.
However, I don't see how you can get away from this translation meaning a Christian who stops producing fruit is 'cut off' and in that context, thrown into hell.
What if the bible translators simply did a poor job of interpreting the Greek word in its true context?
The Greek word here is "airo" and it can be translated as 'cut off', 'removed', or, I believe more correctly as 'take up', and 'to raise'.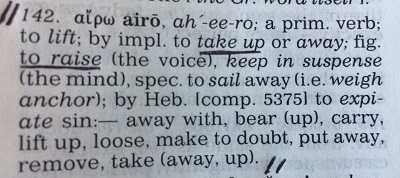 airó: to raise, take up, lift
Original Word: αἴρω
Part of Speech: Verb
Transliteration: airó
Phonetic Spelling: (ah'-ee-ro)
Short Definition: I raise, lift up
Definition: I raise, lift up, take away, remove.
So, in context, what this verse really should say is:
He LIFTS UP every branch IN ME that bears no fruit, while every branch that does bear fruit he prunes.
This lifting up of branches actually causes them to start to produce fruit again.
It was a common practice for a vinedresser to stretch the vine on an arbor or use some other means of raising it to the air and sun.
Note: it's NOT OUR FRUIT. It's the fruit of the Spirit. That's why verse 4 tells us we CAN'T bear fruit on our own…..because you don't have the ability to do it. Let me take it further….. not only is it IMPOSSIBLE for a Christian to bear good fruit on our own, but according to Matthew 7:18 it's also IMPOSSIBLE for you to bear BAD FRUIT!
A good tree cannot produce bad fruit, nor can a bad tree produce good fruit.
Wait, how can that be? How can it be impossible for a Christian (good tree) not to produce bad fruit? Simple. It's because the fruit is not a human work. It's referring only to what comes from the Spirit. The Spirit can NOT produce even one bad fruit. But you, as a human, even a Christian, produce bad fruit all the time.
Side Note: regarding this word 'abide'  in these verses in John 15. Abide is NOT a HUMAN EFFORT or a TRY HARDER word. Abide simply means 'live'. Christians LIVE IN CHRIST (and He lives in us), and it is impossible for us not to ABIDE in Him if we are believers.
So good news! If, by chance, we good trees are not bearing good fruit for a time, we are not going to be cut off, but rather we will be lifted up.
Mike Cynar was raised in a church setting where he frequently noticed that many attendees would eventually drift away. The church labeled these individuals as 'back sliders' or 'fake Christians' just looking for 'fire insurance'. However, Mike realized the issue was rarely with these individuals but instead with the church's message itself. The teachings heavily emphasized behavior improvement and one's flaws, with only a fleeting mention of one's identity in Christ. It felt as though every sermon was tailored to the church of Corinth, who as we know or committing sins that even unbelievers don't partake in. This trend was noticeable not just in one denomination, but across Baptist, Catholic, Pentecostal, and many other churches. Upon understanding the true essence of the gospel – that our righteousness comes from Jesus' actions, not our own – Mike was inspired to liberate believers from lifeless sermons and reconnect them with the genuine teachings of Jesus. He believes that one can nurture a vibrant and growing bond with Jesus, unhindered by rigid religious practices. And thus, "Jesus Without Religion" was born.
It turns out that it is grace that leads to repentance. And if our heart is to get others to walk in the Spirit and live a godly life, then the best approach is not a beat down sermon, but rather to remind other that it is only when we understand our true identity in Christ that we will live it out. Yes, it's true, if you're convinced that God thinks you're a dirty sinner, you will ultimately continue a lifestyle that mirrors that view, but if you truly believe that even on your worst day, you are called holy, sanctified, justified, and will be presented blameless in the end, well, it turns out this is the secret to living out on the outside what has been worked in to the inside.